Coating Application Systems & Components
Best solutions for Fluid Coating Application and Fluid Handling Needs.
SPRAY EQUIPMENT
Finishing Parts and Service
SPRAY BOOTHS
Complete Systems
PRETREATMENT
OVENS
AIR MAKE UP
CONVEYORS
PUMPING SYSTEMS
AUTOMATION & INTEGRATION
Quality, brand name wet and powder coatings application tools such as; Graco, Parker Ionics, Binks, DeVilbiss, and Sata.
We offer a wide range of wet atomization options; conventional air spray, high volume low pressure, airless, air assisted airless.
Electrostatic guns to improve wet paint transfer efficiency decrease application time and save coatings costs.
Annadale offers complete packages, individual components, replacement parts as well as a comprehensive service and repair facility that our customers have come to rely on.
Our Powder equipment offering includes Parker Ionics "Pulse Power" technology that provides the industries highest first pass transfer efficiency. Pulse Power is the industry leader at overcoming inconsistent mil build with complicated parts due to Faraday.
We also offer replacement parts for all powder equipment.
All wet and powder spray guns are available in manual or automatic.
Annadale's maintains over $250k in parts and inventory to help keep your business running. Our certified service technicians have years of experience within industrial finishing. Let us repair your worn out, leaking or non functional pump, finishing applicator or anything else in the paint world.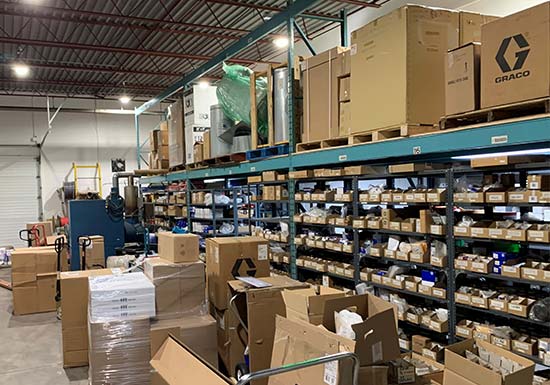 Custom designed and packaged spray booths, available as, down draft, cross draft, semi down draft, automotive and truck, enclosed or conveyorized and bench dry filter spray booths.
Provided with effective air flow volume and pressure to remove airborne particulates and provide optimum paint transfer efficiency.
High production water wash spray booths, with centrifuge sludge removal systems, offering efficiency and low maintenance.
Batch style booths available with spray and cure options.
Manual application and automatic powder spray booths with spray to waste or reclaim options.
All of our spray booths are designed to conform with NFPA codes.
Annadale Finishing Systems also offers fire suppression systems, spray booth filters, booth coatings.
For over 35 years Annadale Finishing Systems has focused on the design, supply, installation, commissioning and service of coatings application systems. Whether you require an individual component to be integrated into your existing process or a truly 'complete' system, Annadale has tried and proven solutions.
Annadale has invested heavily in maintaining quality vendor partnerships that will approach your needs as a team, resulting in qualified options personalized for your needs.
Our engineered systems group is allied with world class component manufacturers and installation contractors which will ensure that your project comes in on time, within budget and meets your quality and return on investment requirements.
To round out our installation activity Annadale Finishing Systems will also take on the responsibility or assist you with your Pre Start Health and Safety Review, Ministry of the Environment approvals, Electrical Standards Association approvals, and Technical Standards and Safety Association approvals.
Our collaborative approach includes working with your pre-treatment chemical and coatings vendors to ensure that our mutually agreed upon designs meet your production requirements.
Annadales design and integration capabilities include:
Chemical Pre-treatment
Mechanical Blasting
Waste Water Treatment
Reverse Osmosis
Conveyors
Paint Kitchens
Environmental Permits
Electronic Paint Proportioners
Manual Grit Blast Booths
Liquid Spray Booths
Powder Spray Booths
Dry Off Ovens
Cure Ovens
Air Make Up
Environmental Rooms
Spray And Cure Booths
Robotics
Automated Shot Blast Systems
Paint Supply Pumps
Coatings Application Tools
Fluid Pumps
Automation
Solvent Recyclers
Automated Nozzle Blast Systems
Our chemical pretreatment washers are designed in conjunction with your chemical supplier requirements to remove; dirt, scale, oils and contaminants which is the critical first step in obtaining quality finishes.
Multi stage spray washers which may include; alkalines, phosphates, conversion coatings, sealers, rinses and blow offs.
Designed for your substrate requirements to improve under paint corrosion resistance and enhance paint adhesion.
Deionized or RO water final rinses to minimize any substrate contaminants.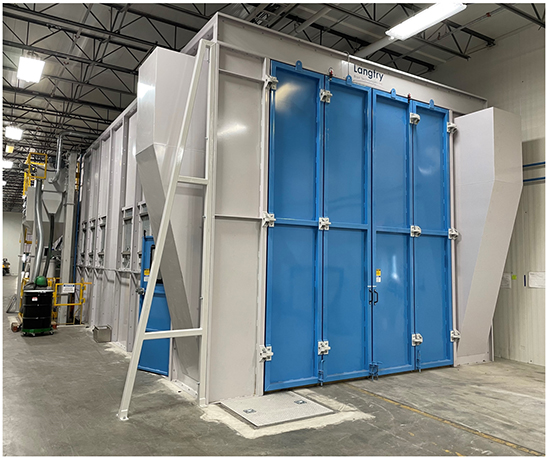 Washers are available in mild steel and/or stainless steel.
Utilizing proven, industry accepted components, such as; Maxon burners, Gusher pumps, Honeywell Controls and Bex spray nozzles. All of our components are TSSA, ESA, CSA and UL approved.
Waste water treatment components to neutralize and filter contaminants.
We also provide manual and automatic abrasive, blast cleaning systems that are an effective solution for the removal of rust, scale, paint and other impurities from metal parts.
This method of cleaning is also effective in creating a profile conducive to the adhesion of your coatings.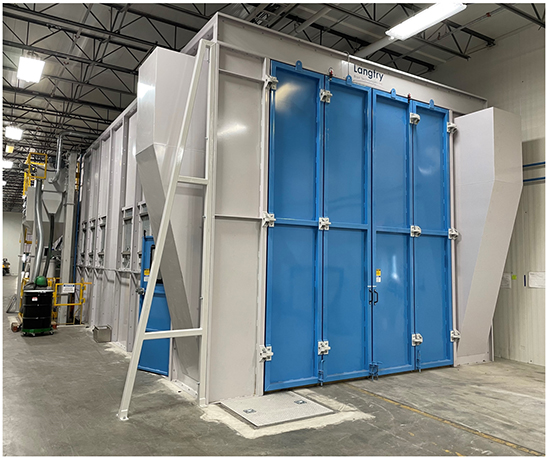 Annadale offers a wide range of ovens designed for curing liquid and powder coatings.
Engineered ovens to preheat, dry, flash off and cure.
Utilizing the following technologies: Direct fired natural gas and propane convection, electric convection, gas or electric infrared and ultraviolet. Available in batch or conveyorized continuous production styles.
Industry proven components are incorporated into our designs and our assemblies are TSSA, ESA, CSA and UL approved.
We will recommend the optimum technology for the highest heat transfer efficiency, while enhancing your operating efficiencies and production rates and keeping your energy and operating costs under control.
All of our ovens are designed to conform to NFPA codes.
Air supply units sized to meet your replacement air, heating, cooling and humidity requirements.
Indoor and outdoor units designed to meet your space and weight requirements.
Available from 1,200 to 120,000 cubic feet per minute. 100+ degree F rise.
Industry proven components are incorporated into our designs and our assemblies are TSSA, ESA, CSA and UL approved.
Eliminate plant air starvation and replace exhausted air with conditioned fresh air to improve indoor air quality and ventilation.
The efficient movement of products through the various stages of the coating application system is a key component of the overall process effectiveness.
All designs are built to maximize the material handling capabilities while minimizing costs, floor space and part contamination.
Annadale provides; overhead monorail, floor mounted, inverted, power and free, continuous chain, enclosed track, I beam, chain on edge, and belt conveyor systems.
Available with constant or variable speed drives.
Annadale also provides automatic conveyor chain lubrication equipment which increases uptime and extends chain life.
Brush cleaners are available to help eliminate contaminants, reducing part rejects and costly refinishing.
Conveyor lubricants and greases to meet the unique operating conditions of industrial conveyors.
Pumping, metering and dispensing of all liquid and powder coatings found within manufacturing processes.
Annadale Finishing Systems supplies pumps and components to effectively move; wet and powder coatings, solvent, sealants, adhesives, oils, lubricants…
Wet Paint kitchens consisting of high performance long life and low maintenance pumps, agitators, filters, lubricators, drum covers and elevators, heaters and surge suppression.
Electronic and mechanical paint proportioning systems which mix and meter your plural component coatings on demand.
Multi drop paint circulating systems.
Wet and Powder Paint storage and mix rooms, complete with ventilation or A/C as required, lighting, heaters, fire suppression and spill containment.
Control, monitor and report the integrated functions and performance information of your coatings application system, including your pre-treatment, spray booths, conveyor, curing systems, air make up, fluid handling equipment and atomization tools.
Part identification hardware and software for appropriate treatment throughout the finishing system process and the recording of production data.
Interface with touch screen user friendly PLC and HMI platforms which allow you to select part recipes and enter production data. Available with direct dial modems for offsite trouble shooting and programming.
Annadale Finishing Systems is associated with ABB robotics and is proud to be a member of its 'Global Partner Program'.
ABB Robotics offer an extensive range of coatings application robots that can accommodate any paint finishing challenge.
Annadale Finishing Systems offers complete installation, programming, integration and path work.
AFS is Proud to have Successfully Worked with